Rentals
Standard
Days
Adult
Child
Ski set

(Skis,Boots,Poles)


Snowboard set

(Snowboards,Boots)

1 day
3000yen
2000yen
2 days
5000yen
3500yen
3rd day and subsequent days
2000yen
1500yen
Ski set + Wear

(Skis,Boots,Poles,Wear)


Snowboard set + Wear

(Snowboards,Boots,Wear)

1 day
5000yen
3500yen
2 days
8000yen
5500yen
3rd day and subsequent days
2500yen
2000yen
Snow Wear
1 day
2500yen
2000yen
2 days
4500yen
3000yen
3rd day and subsequent days
1500yen
1000yen
Skis or Snowboards
1 day
2500yen
1500yen
2 days
4500yen
2500yen
3rd day and subsequent days
1500yen
1000yen
Ski Boots or Snowboard Boots
1 day
2000yen
1000yen
2 days
3500yen
1500yen
3rd day and subsequent days
1000yen
500yen
Glove or Goggle
1 day
500yen
300yen
2 days
800yen
500yen
3rd day and subsequent days
200yen
100yen
Knit Cap or Ski Pole
1 day
300yen
200yen
2 days
500yen
300yen
3rd day and subsequent days
200yen
100yen
Helmet
1 day
500yen
500yen
2 days
800yen
800yen
3rd day and subsequent days
200yen
200yen
High Grade
Days
Adult
+Wear
Expert Ski or Fat Ski Set

(Skis,Boots,Poles)


Snowbords at your choice set

(Snowboards,Boots)

1 day
4000yen
6000yen
2 days
7000yen
9500yen
3rd day and subsequent days
2500yen
3000yen
Expert Ski or Fat Ski Set

(Skiboards)


Snowbords at your choice set

(Snowboards)

1 day
3500yen
2 days
6000yen
3rd day and subsequent days
2000yen
Pleas let us copy your ID card, insurance card or driver's license before you use our gears.
Children's fee applies to elementary-age or younger children.
Rented gears must be returned by 5:30 p.m.
A board change costs 500 yen.
Barton rental snowboards cost an additional 300 yen per day and 500 yen per 2days.
You can separately rent small gears at an extra cost of 200 yen per gear.
Gear size
Adult
Ski
137cm ~ 178cm
Ski boots
23cm ~ 32.5cm
Board
130cm ~ 165cm
Board boots
22.5cm ~ 33cm
Wear
XS ~ 4L
Child
Ski
70cm ~ 150cm
Ski boots
15.5cm ~ 25.5cm
Board
70cm ~ 134cm
Board boots
18.5cm ~ 25cm
Wear
84cm ~ 155cm
BURTON Snow Board set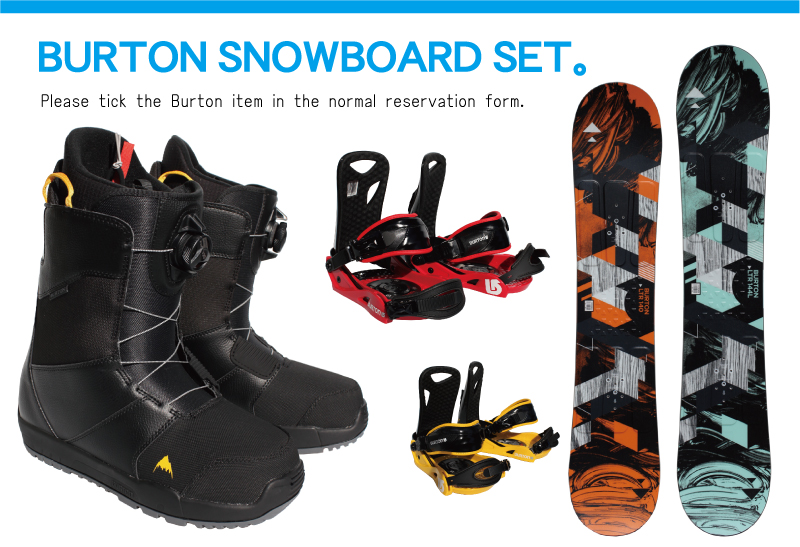 BURTON SET
Days
Adult
Snowboard set

(Snowboards + Boots)

1 day
3500yen
2 days
5500yen
3rd day and subsequent days
2500yen
Snowboard set + Wear

(Snowboards + Boots + Wear)

1 day
5500yen
2 days
8500yen
3rd day and subsequent days
3000yen
The Burton set is low in stock. So if it is out of stock, it will be changed to the standard set.